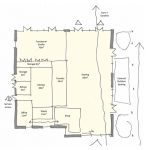 Introducing Plans for an On-Site Cafe & Farm
The Blue Tangerine Farm started as a dream, a "wouldn't it be nice" conversation as part of our determination to better support our young people with genuine work experience they could build on in their classroom learning.
For years, St Luke's School has featured the use of animals in the curriculum, addressing animal care and accreditations, farming methodologies and animal assisted therapy – successfully used strategies around the world for young people with Autism.  The school is often selected by parents because of the culture of animals at St Luke's and we find this is incredibly beneficial for many of the pupils here.  We often open up the school to other school groups and this led us to considering the growth of our animal provision to becoming a small, British farm.  So many people have never come up close to animals and in supporting this, with experience and knowledge of working with young people with special needs, it feels right and appropriate – both as a learning experience and, work experience.
As a charity we are seeking planning to provide a training cafe and community farm, increasing the range of animals on site from those we already have.  The farm will be located on our semi-rural site, alongside St Luke's School in Redbourn, with excellent Transport Links to nearby Hemel Hempstead, St Albans, Harpenden and the M1.
It is imperitive for us that our venture is a destination venue for our communities that in turn, facilitates educational experiences for young people. Available to all schools within the local area, our programmes will be adapted to meet the schools individual curriculum. The farm will create a learning outside of the classroom environment, whilst providing work-related learning opportunities and functional skills.
On site, we expect to create the café, farm shop, petting area and horticulture area that will support ingredients for fresh, simple menus in the cafe.  With a projected busy event schedule, the vision is to ensure high quality experiences to encourage regular attendance.
Our design embeds environmental value and sustainable living. We will do our upmost to develop the land sensitively, allowing it to remain a Greenfield Site. The farm will have a strong focus on organic practices, farm-to-fork principles, recycling, reducing food waste and sustainability.
Our Planned Cafe
The cafe is a simple design, with plenty of seating and the ability to open up further for larger school events.  Accessible from the car park and adjacent to the school playground, the cafe is situated within the school grounds.
As a Registered Charity we want to provide a destination that can be used and enjoyed by our local community, not make profit.
To create work-related learning and employment opportunities, specifically for young people with Special Educational Needs.
St Luke's School have seen first-hand the benefits of animals and horticulture as therapy. We know how fortunate our young people are to have this opportunity and want to be able to share our facilities to other schools and community groups.
Emphasised by the pandemic, we understand the importance of being outdoors for improved mental health, physical activity and social opportunities.
With a strategic plan in place, we expect to work in close proximity with our consumers and the local community, reducing environmental impact in the local area.
To improve our community's understanding of Special Educational Needs.
To create a safe space, where all people, including those with disabilities, are accepted.
Fully accessible facility for the whole community; businesses, schools and residents.
To proactively enable our communities to see and celebrate the ability in disability.
Please do take a look at our plans for the Farm. We will keep you up to speed as our plans develop.
Learning At Its Heart
Teaching and learning is our business.   All areas of our school curriculum will be supported by learning in the cafe and farm, particularly communication skills and functional skills.   Predominantly about training for employability skills, the venture will continue to support alumni and our community in working collaboratively.  For visitors, the cafe and farm will be educational too – seeking to expand knowledge of environmental issues, animal husbandry and farm-to-fork produce.
The curriculum connections with horticulture, cookery, animal care and hospitality are also planned to work in collaboration with further education establishments.  Each year, we expect to offer eight apprenticeships at a range of levels that include young adults with and without cognitive disabilities.
Additionally we will be able to offer 8 traineeships at one time in the above fields. These traineeships will be based on 15 hours a week and for 8 week placements.
A number of part-time jobs will be created for members of the local community.